Flooring Removal West Bend
Since 1953, BYCO has been offering a low cost alternative to conventional flooring and tile removal and demolition. We routinely work with general contractors, demo contractors, end users and other flooring companies for flooring removal at below average costs.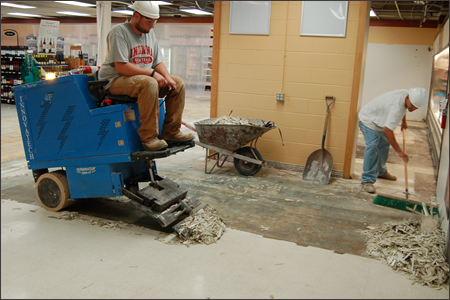 Tile Demolition and Removal West Bend
We offer a quiet and efficient mechanical floor and tile removal system for flooring and tile such as:
• Ceramic tile removal
• Rubber flooring removal
• VCT and sheet good removal
• Carpeting removal
• Paint, adhesives and other floor coating removal
Flooring removal or tile removal and demolition can be done during off hours and narrow time frames through the use of BYCO's high capacity equipment.
Service for Flooring Demolition
We work with your schedule and needs to assure minimal interruption with your business operations. We can remove your flooring at your convenience and meet your time demands. We offer occupied office remodeling, including furniture and cubical moving with 2nd, 3rd and weekend shifts. This service will allow as little interruption to your daily operations and allow us to meet tight deadlines.
Safety Matters when we are removing floors
Safety matters; we care for the safety and health of both our clients and flooring removal personnel, so we provide a comprehensive safety program which covers personal protective equipment, material handling, first aid and other safety concerns to make sure everyone leaves work healthy.
Excellent Customer Service:
BYCO Inc focuses on quality products, expert work and premium customer satisfaction and service. Our flooring removal and tile demolition experience, since 1953, brings an expertise that most flooring installers don't have. Trust the experts, give BYCO Inc a call at 262-894-6995 or contact us via email.
Save on your next flooring demolition or tile removal services by calling BYCO Tile and Floor at (262) 894-6995.
✔ Since 1953, we have completed thousands of projects.

✔ Competitive pricing through low overhead and high efficiency

✔ Full service design and installation of all flooring

✔ Occupied office remodeling, including furniture and cubical moving with 2nd, 3rd and weekend shift availability

✔ MBE, SBE and DBE WI certifications